News
---

11.1.06 - TVGuide.com: Sara Rue will appear on CBS's Two and a Half Men on November 6.

10.23.06 - TVGuide.com: Tammy Lynn Michaels and her partner, Melissa Etheridge, are the new parents of twins, a boy and a girl, born to Michaels on October 17th, and conceived via an anonymous sperm donor.

10.13.06 - TVGuide.com: Capital City, a D.C.-based drama first shopped around in 2004 by a pre-Commander in Chief Rod Lurie, is being redeveloped by the CW after being rejected by ABC. The original pilot starred Leslie Bibb, Peter Fonda, David Paymer, Tom Berenger and Mary Steenburgen.

9.28.06 - Michael Ausiello at TVGuide.com reports that Ryan Murphy has recruited one of his Popular alums for an episode of Nip/Tuck. Next week, Adria Dawn (April Tuna) shows up as a Scientologist who helps Kimber move Matt out of Casa de McNamara. And if that's not enough for Julia to contend with, her nanny (played by Peter Dinklage) is going to develop some health problems.

8.28.06 - TVGuide.com: Don't miss this great picture of Leslie Bibb at the TV Guide Emmys party!

5.22.06 - Kristin at E!Online reports that Charsima Carpenter is going to do a movie with Nicholas Brendon and Chris Gorham for the ABC Family Channel this fall. It's a comedy called "Relative Chaos," and it's about a sibling rivalry that rears its ugly head at a family reunion. Carpenter and Gorham will be playing each other's love interests.


2.21.06 - Play Nice, a CBS pilot about a brother and sister who inherit and run the family toy company, has cast Timm Sharp as the brother and Sara Rue as the sister.

12.19.05 - The December 19th issue of TV Guide magazine gives Cheers to Leslie Bibb for shaking up Crossing Jordan. As shrink-turned-cop Tallulah Simmons, Bibb makes a formidable adversary to Jill Hennessy's Jordan for the affections of hotheaded detective Woody (Jerry O'Connell). We've liked Bibb ever since she played the princess-y Brooke McQueen on WB's Popular, but her subsequent stints on ER (as intern Erin Harkins) and Line of Fire (as an FBI agent) were too short-lived. Here's hoping she's not just crossing through Jordan.

12.13.05 - Leslie Bibb has been upped to series-regular status on NBC's Crossing Jordan where she play police-department shrink Det. Tallulah "Lu" Simmons.

Leslie Bibb by
Mitch Haaseth/NBC
12.2.05 - TV Guide Online: Will Jordan's Sexy Shrink Shag Woody?
by Matt Webb Mitovich
Popular alum Leslie Bibb recently joined NBC's Crossing Jordan (Sundays at 10 pm/ET) as Tallulah "Lu" Simmons, a police-department psychologist who has the oh-so-unenviable task of taking a long, hard look at Jerry O'Connell's Woody. Will Lu be the one to further douse any remaining flame between the hotheaded detective and M.E. Jordan? TVGuide.com spoke with Bibb about that, ham sandwiches and her love for Will Ferrell — even though, she admitted just before we started, she has never seen a single episode of Lost. Or Desperate Housewives. Yeesh.
Leslie Bibb: TV Guide hates me, I know it.
TVGuide.com: Oh, hate is such a strong word. So, look at you, someone nicknamed Lulu playing someone named Lu!
Bibb: I know, can you believe it? Hey, I've got to switch phones because I'm about to run out of batteries. [Looking around] Where in the ham sandwich is my phone? There it is.... Can you hear me?
TVGuide.com: Did you just say "Where in the ham sandwich"?
Bibb: Yep. I'm trying not to swear.
TVGuide.com: Where did that expression come from?
Bibb: You've never heard that? Everybody says that. I'm a Virginia girl, so maybe it's a Southern thing — but don't quote me on that. I'm trying to stop swearing because I usually sound like a trucker.
TVGuide.com: You, like, totally chopped off your hair for Jordan!
Bibb: [Laughs] Everyone's talking about that! You know what, I change it all the time. Now I think I'm going to grow it long. I had extensions for a movie I just did.
TVGuide.com: This isn't your "serious shrink" hair?
Bibb: No, this is "I was bored and felt like cutting it, and then I got the job."
TVGuide.com: Will the Woody-Lu love-hate thing soon be consummated?
Bibb: Here's what happens: Because Crossing Jordan is run by the most amazing people in the world, they let me go off to do this movie, so I did about three episodes, and then I came back for [Episode] 14 on. It was unbelievably kind that they let me do this.
TVGuide.com: But still more love-hate ahead?
Bibb: Still love-hate. We're starting to get into the thick of things; the plot is starting to thicken. There's a big thing that happens between Woody and Jordan, and just when everybody thinks it's going to go one way, they throw in a twist.
TVGuide.com: You were on ER back when I watched that show religiously. Refresh my memory on who you played.
Bibb: I was an intern named Erin Harkins. I had a "thing" with Luka, and he almost killed me.
TVGuide.com: Oh yeah, they were in that car crash and the episode went "backwards" explaining what led up to it.
Bibb: It was pretty cool, I loved that episode! That was a fun show. Again, it was another show that I never watched, and then I got that job and I said to my sister, "I have all these scenes with a guy named Carter," and she was like, "Oh my god! That's Noah Wyle!" When I got the job, I was like, "Whatever, it's a job," and now I look back and think it was so cool to be a part of television history.
TVGuide.com: Is it true Erin was supposed to die in that crash, and they changed their minds to keep you on?
Bibb: No. No. Didn't die. I had to go do a pilot called Line of Fire, so I got out to do that and all of a sudden I did my rounds "upstairs."
TVGuide.com: Would Goran Visnjic have gotten your vote to be the new James Bond?
Bibb: That would have been a nice James Bond. He's a stud. He's got that Clive Owen thing going on.
TVGuide.com: Do you keep in touch with anyone from Popular?
Bibb: Carly Pope and I are really good friends.
TVGuide.com: You girls meet for Starbucks every day?
Bibb: Well, seeing that she lives in Canada, that'd be a little difficult! [Laughs] But we stay in touch. I just got an e-mail from her saying that she's in town, so I'll probably be getting together with her — probably not at Starbucks, but maybe at Aroma?
TVGuide.com: She actually went in for the role of Brooke, which you wound up getting, right?
Bibb: This is true. We both were auditioning for Brooke, and as soon as we left, they ran out and gave her the sides for Sam — which is always terrible for the other girls, the others reading for Sam. They're like, "S---!"
TVGuide.com: Hey, you just swore!
Bibb: I did. It's over. I have to be honest, I woke up swearing this morning.
TVGuide.com: Popular's Christopher Gorham is doing Out of Practice now....
Bibb: What's Out of Practice?
TVGuide.com: [Sighs heavily]
Bibb: I know. I know. Should we end now? Is the interview over?
TVGuide.com: I mean, you have this recurring Jordan gig, the income is there to buy a TV....
Bibb: Actually, my friend, I'm part of the cast now.
TVGuide.com: Even more so! You can get a CRT set pretty cheaply....
Bibb: My friend, here's what you need to know about Leslie Bibb: I just got a cell phone in the last year, and my first laptop in the last six months. I am the most techno-unsavvy person on the face of the earth. It ain't good. I'd much rather play Scrabble than watch TV.
TVGuide.com: Is it true WB misled the producers about Popular's cancellation, letting them set up cliff-hangers that were never resolved?
Bibb: News to me. That show, as much as I loved it, I think it was good that it ended when it did. Ryan Murphy went on to do Nip/Tuck, so it was better for him.... And personally, I think when you get something so fast, you don't appreciate it and all you've got is attitude and you've got no g-r- with the attitude — you've got no gratitude. I'm glad it didn't go any further because it allowed me to step back and go, "Oh, man, it's nice to actually have a job!"
TVGuide.com: Right, you don't want your first gig to go nine years and then — wham! — you're like, "How do I audition again?"
Bibb: Even if it ran for four years, you become a person you don't want to be, and I found myself becoming a person I didn't want to be — I wasn't grateful for anything, I was just chock-full of attitude. Now when I walk onto a set, I'm like, "Wow, I'm so lucky!" It sounds corny, but it's true. Hey buddy, guess what? I just found out that this little independent film got into Sundance?
TVGuide.com: Wristcutters: A Love Story?
Bibb: Yes!
TVGuide.com: Is the title meant to be ironic or funny?
Bibb: It's supposed to be funny, but we're in the dramatic competition. It's about a guy who kills himself, and I'm sort of his object of infatuation. He sort of glamorizes this relationship [we had when we were both alive] that wasn't that good.
TVGuide.com: Tell me about "Untitled Will Ferrell NASCAR Comedy."
Bibb: That's my movie!
TVGuide.com: Were you a Ferrell fan going in? Or, "I've never watched SNL, either."
Bibb: Please. And I'm an even bigger fan coming out. "More cowbell." I really feel like I was the luckiest girl in Hollywood this year because I got the best job. He is the nicest, kindest, most sincere, talented, funny, generous actor you could ever work with.
TVGuide.com: Is he all "serious" about being funny, or just funny?
Bibb: He's just funny. And he has no qualms about making something funnier for you, even at his expense.
TVGuide.com: What's the bullet on your character?
Bibb: I play Will Ferrell's crazy wife, Carly, and she's just... I feel like Carly is a star of her own country love song. She knows what she wants, and she's very savvy about getting it. Maybe she's not the nicest girl in the world, but she's really funny. She's a delicious villain. I say stuff where you're like, "She did not just say that."
TVGuide.com: Did you get to drive the cars?
Bibb: I didn't, but I did take my rental on one of the speedways at night and it scared the s--- out of me, I was screaming the entire time — and I was going like 40 mph. But man, I'm telling you, it was the time of my life. I feel really lucky right now — Crossing Jordan has this wonderful set where everyone is so nice and we have a good time, and the writers let me play this really fun, kick-ass character. This [next] episode I get to break down some doors.... And I also get to be naked. Oops! I just let something slip out of the bag! Oh, I'm just kidding.
10.18.05 - Carly Pope is in NBC's sequel to last year's disaster miniseries, 10.5. This one is called 10.5: Apocalypse, and NBC just recently moved its air date from November 27th/28th, to sometime after sweeps. No reason was given for the change.
4.8.05 - An untitled CBS comedy pilot about a family of doctors has cast Paula Marshall to join Christopher Gorham, Stockard Channing and Henry Winkler.
3.17.05 - Leslie Bibb has been cast in a untitled Spelling pilot for FOX set in a Las Vegas wedding chapel. Leslie Bibb plays one of the two siblings that own the 24/7 service, with her brother, played by Mark-Paul Gosselaar. Also cast is Megalyn Echikunwoke.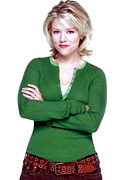 1.11.05 - TV Guide Online: Mrs. Etheridge Is Committed
by Daniel R. Coleridge
Popular grad Tammy Lynn Michaels (aka Mrs. Melissa Etheridge) is baaaack. An habitué of portraying wily, wacky women, she currently plays Tess, the shady nanny on NBC's new Tuesday-night comedy, Committed (9:30 pm/ET). She also has a recurring role as Lacey, a loopy but lovable lesbian on Showtime's The L Word (Season 2 begins Feb. 20). Here, the mouthy 30-year-old starlet candidly discusses her gigs as an actress, stepmom and rock star's missus. Buckle your seat belts, folks...
TV Guide Online: Just curious. Do you mind being called "Mrs. Melissa Etheridge"?
Tammy Lynn Michaels: Are you kidding me? I took the name Etheridge. In my career, it's Tammy Lynn Michaels. Around home, I'm Tammy Etheridge.
TVGO: Did you change it legally? Visiting the DMV to update your driver's license must've been fun.
Michaels: Yeah, especially when the f---in' government doesn't even recognize the reason why you're changing your name. That's even more fun. But I'm flattered when people call me Mrs. Of course they can call me Mrs. Etheridge. I'm so flattered, it makes me want to cry! That's an acknowledgment of my relationship to Melissa. Thank you very much. And if they continue subtly [saying that], maybe those flyover states will learn a lesson.
TVGO: OK, so then it's safe to call you Mrs. Melissa Etheridge in our article.
Michaels: It's fine. Some people bank on the importance of whom they're married to and others don't like being called Mr. or Mrs. So-and-so. I don't give a s---. And you know what? I think there's a lot of people who recognize me because of being Mrs. Melissa Etheridge and, fine, let that get 'em to the show!
TVGO: As one of Hollywood's few out actresses, how hard has it been for you to find work?
Michaels: I'd probably have a better measure of how my coming out affected my career if I had continued to pursue it as aggressively as I had been. When I was finishing Popular, I went through a period of time – even before I met Melissa – of questioning if I really wanted to keep acting. Then I met Melissa, came out, the fur started flyin' and I just ducked [out of sight]. I knew that any role I booked at that time – whether it was because of my talent or I'd slept with the casting director – people would say I was just riding Melissa's coattails. I didn't want that, so I stopped auditioning and started making lunches for my stepkids and went along on tour with Melissa.
TVGO: What lured you back to work?
Michaels: Fortunately, I have a great agent who did not listen to me when I told her I wanted to take a year off. She sent me the script to The L Word and I laughed out loud – which never happens – and Melissa very sweetly drove me to the audition. I booked the show and things have been in full swing ever since.
TVGO: What's the status of Melissa's sitcom? Would you ever guest-star?
Michaels: They made the development deal and a week later, she was diagnosed with cancer! She's done with her chemotherapy now and she'll be getting back on her feet in a couple of weeks, and then they'll just pick up production again. Melissa and I have made jokes about [my guesting], but it's gone no further than late-night-TV-watching jokes in bed. I wouldn't mark it off my list; I'd do anything with Melissa. Who knows, she could have a dream in her new TV show where I come sliding down a fireman's pole!
TVGO: You play so many off-kilter characters. What does that say about you?
Michaels: I am off-kilter! I was raised by so many colorful souls, and I've just got pieces of all of them in me.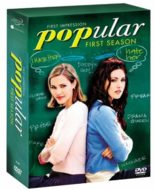 6.26.04 - The first season of Popular is coming out on DVD on September 21st! You can pre-order your copy now.

3.18.04 - Tammy Lynn Michaels joins the ranks at the untitled NBC comedy project from Deann Heline & Eileen Heisler (NBC Studios), also starring Josh Cooke and Jennifer Finnigan.

10.8.03 - From TV Guide Online: Jake 2.0 Reunites Popular Stars

Forget phonics, we're hooked on bionics! Sure, ratings are low for Jake 2.0 — UPN's Spider-Man/Six Million Dollar Man hybrid — but this show smells like a cult hit. "I've never listened to Howard Stern's show," Christopher Gorham (aka Jake) tells TV Guide Online, "but one of my brother's best friends called me and said, 'Dude! Stern is a fan of your show, dude!' So I was excited." Tonight at 9 pm/ET, fans of Gorham's from the WB's Popular — another underrated TV gem — will see him reunited with former costar Carly Pope. What better excuse to call up the supergeek at Jake's Vancouver, B.C., set for a bionic bull session?

TV Guide Online: Tonight, Carly plays a sexy computer hacker looking to "interface" with you. Was your wife, Anel — who played a Popular cheerleader — relieved that a mutual pal is romancing you on-screen?
Gorham: I think she tries not to think about it at all. (Laughs) For a single guy, I guess that stuff is loads of fun. As a married guy, you loathe all the romantic storylines you have to do. It's strange to have your wife see you kissing someone else. I'm old-fashioned that way, but she was fine with it. She was happy for me that I was going to be working with an old friend, and tries not to think about the romance.

TVGO: Do you campaign for the missus to get this seductress role?
Gorham: It was suggested to me, but she's too pregnant! I have one son, Lucas, who's 2 1/2, and my second child is due in January.

TVGO: Did you attend the recent wedding of your old Popular castmate, Tammy Lynn Michaels — aka the new Mrs. Melissa Etheridge?
Gorham: No, I did not attend. I was not invited, I'm afraid. (Chuckles) But that's okay, because we haven't kept too close in touch with most of those guys. We see them occasionally, but we don't hang out. So we didn't expect to be invited, but I was excited for Tammy. That's great!

TVGO: Surprised to see how nasty an imagination Popular creator Ryan Murphy has, now that he's writing for FX's Nip/Tuck?
Gorham: Hell no! We're still very good friends. I'm rarely surprised by what comes out of Ryan's pen. I'm happy for the success of that show. And who knows? You may see me and Anel pop up on Nip/Tuck sometime next season. They start shooting way before Jake 2.0 does, so it's entirely possible that, in the second season, Anel and I might appear.

TVGO: Oh, really... As a swingin' married couple?
Gorham: I think so, yeah. I can't reveal [any more], but it has been discussed. Wouldn't it be fun?

9.29.03 - From TV Guide Online: Mrs. Melissa Etheridge Speaks!

Isn't it ironic? Girl-on-girl action never fails to get a rise out of viewers, yet being a lesbian can send a starlet's career spiraling downward. Luckily, the new Mrs. Melissa Etheridge, Tammy Lynn Michaels, doesn't give a damn; the former Popular vixen has her priorities in order. "This industry is fickle," she tells TV Guide Online. "What's most important is who's going to be there with you at the end of the day when people stop taking pictures."

Hallelujah! However, the 28-year-old actress, who recently played a homosexual teenage spy in the spoof D.E.B.S., didn't always have a beautiful mind to match her pretty face; she came by her level head the hard way. "I had a single mother, and coming from a small Catholic town in the '80s... that did not fly well," the Indiana native remembers. "Back then, it was like the scarlet letter... so I know what it's like to be the black sheep of the town. That's why I tend to root for the underdog." (No wonder she and her rockin' better half elected to make a dinner guest of quirky singer Vanessa Olivarez immediately after she got voted off American Idol 2.)

If Michaels herself is considered to be something of a Tinseltown outcast, however, she's delighted. After all, that would put her in excellent company! "You know, Julia Roberts was the hottest thing, then she had a couple of movies that fell through, and [media vultures] were talking about her like she was a has-been," the modern-day Bette Davis points out. "Now, she f---ing owns Hollywood!

"Hollywood itself is entertainment — just watching this town," she adds wryly. "That's why you can't take anything too seriously."

9.25.03 - Leslie Grossman will guest star on the WB show What I Like About You tonight at 9pm ET.

9.23.03 - Tammy Lynn Michaels and Melissa Etheridge tied the knot in a commitment ceremony last weekend.

9.17.03 - Christopher Gorham chats with Kristin at E!Online and talks about his new show, Jake 2.0, and his memories from Popular and Felicity. Don't miss Carly Pope in an upcoming episode of Jake 2.0.

8.22.03 - TV Guide Online: Jake Robo-Nerd Suffers for His Part - Tackling the lead in UPN's Jake 2.0 (airing Wednesdays at 9 pm/ET beginning Sept. 10) would make most actors wish they possessed the title character's technologically enhanced super-brains and brawn. But former Popular pushover Christopher Gorham needs only his own adrenaline to keep up with the physically demanding role of a government drone who, through a freak accident, is transformed into a top-secret agent....

8.14.03 - Zap2It.com: 'Jake 2.0' Star Has Fond 'Buffy' Memories - Former "Popular" and "Odyssey 5" regular Christopher Gorham now has a show of his own, "Jake 2.0," premiering Wednesday, Sept. 10, on UPN. But even with the excitement of all that, his eyes light up when he recalls his one-episode stint on "Buffy the Vampire Slayer," which ended its seven-season run on UPN last year....

7.25.03 - TV Guide Online: Meet TV's New Bionic Man - Looks like The Six Million Dollar Man is making a comeback of sorts. AOL Broadband used the "Gentlemen, can rebuild him" theme in its recent ads. And this fall, UPN's Jake 2.0 stars Christopher Gorham as a cyborg government agent. Think of a modern-day Steve Austin, the bionic dude Lee Majors played in ABC's iconic 1974-78 TV series....

5.15.03 - Christopher Gorham's new drama, Jake 2.0, has been picked up for the fall season by UPN and will air on Wednesdays at 9pm ET following UPN's flagship show, Enterprise. Jake 2.0 is the only new drama UPN added to their roster.

5.13.03 - Leslie Bibb's new drama, Line of Fire, has been picked up as a mid-season show for next season by ABC. In addition, Sara Rue's comedy, Less Than Perfect, has been picked up for a second season and will continue to air on Tuesdays at 9:30pm ET.

4.16.03 - Melissa Etheridge, 41, will marry Popular's Tammy Lynn Michaels, 28, at year's end, the rocker's rep confirms.

3.14.03 - ABC has ordered Lines of Duty (Touchstone/DreamWorks), its first scripted series for the 2003-04 season about a group of FBI agents concentrating on organized crime. The pilot was written and directed by Rod Lurie, and signed to star are Leslie Bibb, David Paymer and Jeffrey Sams.

2.28.03 - Christopher Gorham has been cast in the UPN pilot Weapon X.

12.2.02 - According to Variety, cable net FX is looking at a new series called Nip/Tuck from one of the creator of WB's Popular Ryan Murphy, focusing on two Miami-based plastic surgeons -- one single and busy, the other in a crumbling marriage. So far, FX has ordered just the a pilot.

10.15.02 - TV Guide Online: ABC Starlet Says: "I'm Not Plus-Sized!" - Popular alumna Sara Rue is one of young Hollywood's nicest up-and-comers. But these days, the 23-year-old star of ABC's Less Than Perfect (airing tonight at 9:30 pm/ET) is wary of interviewers. "If you write that I'm 'plus-sized,'" she warns TV Guide Online, "I'll hunt you down and kill you! [Journalists] have just made up my size. I've gotten everything from size eight to size 14, so that's a big range...."

10.10.02 - Satisfied with its ratings, ABC has ordered a full season (22 episodes) of Sara Rue's new sitcom, Less Than Perfect, co-starring Andy Dick.

8.14.02 - TV Guide Online "Caught in the Act" - Miss Popularity: Sara Rue, star of the new ABC comedy Less Than Perfect, looked anything but at the Hollywood premiere of Simone.

7.26.02 - Leslie Bibb is joining the cast of ER next season as medical student Erin Harkins. Bibb will initially enter the ER with a deal for five episodes, and an option to do more. Her first appearance will be in the second episode of the season.

7.11.02 - TV Guide Online: The Perks of Being Popular - The saying goes, you keep the friends that you make in high school forever – and for rising starlet Leslie Grossman's sake, we hope that it's also true of the friends that you make while portraying a high school student....

6.7.02 - TV Guide Online: The Return of Little Miss Popular - After Popular wound up its two semesters on the WB, teen magazines voted the schizophrenic high school dramedy's pretty and pretty boring leads, Leslie Bibb and Carly Pope, most likely to succeed. Our favorite grad, on the other hand, was adorable class clown Leslie Grossman, who played Southern-fried psychopath Mary Cherry....

4.15.02 - TV Guide Online: Popular Alum Visits Heaven... and Hell - After being cast in the current release The Other Side of Heaven as a 1950s Mormon missionary stationed in a tropical paradise, Christopher Gorham pictured himself sipping pina coladas and soaking up rays....

3.13.02 - In Saint Sass, a WB sitcom with Delta Burke as the head of a prep school, Heather Matarazzo and Diane Delano have been added to the cast as prep school students.

2.19.02 - Leslie Bibb will headline Rod Lurie's upcoming ABC drama pilot set on Capitol Hill. She'll play a young congressional staffer.

1.29.02 - CBS will launch its new series Baby Bob this spring and joining the cast are Elliott Gould and Holland Taylor as the grandparents of the talking 6-month old, Tamara Mello as Bob's babysitter, and Marissa Tait as Bob's father's office assistant. Adam Arkin and Joely Fisher play Bob's parents.

11.26.01 - TV Guide Online: Felicity Role Is Kid Stuff for Newbie - Like most kids, Christopher Gorham once longed to be seen as a grownup....

10.23.01 - TV Guide Online reports that Jennifer Love Hewitt has signed on to play a successful news anchorwoman obsessed with Hepburn in the big-screen romantic comedy "Why Can't I Be Audrey Hepburn." Ryan Murphy, the creator of Popular, will direct.

8.28.01 - Don't miss Anthony Montgomery (George Austin, credited as A.T. Montgomery) as Ensign Travis Maywather on the new Star Trek: Enterprise, premiering on UPN September 26th.

8.13.01 - Don't miss Tamara Mello in the new movie, "Tortilla Soup," opening August 24th in select cities.

7.18.01 - TV Guide Online: The Skinny on Melissa New Love - Puckering up to Jennifer Aniston in girlfriend Melissa Etheridge's new "I Want to Be in Love" music video, former Popular tart Tammy Lynn Michaels looks every inch the lean, mean kissing machine. But despite her timeless, hourglass figure, the voluptuous vixen once was told...

7.18.01 - Writer-producer Ryan Murphy will direct the film "Why Can't I Be Audrey Hepburn," according to The Hollywood Reporter. Ashley Judd, Renée Zellweger, Sarah Michelle Gellar and Toni Collette reportedly are some of the names being tossed around to play the lead.

6.18.01 - From planetout.com: Tammy Lynn Michaels does not plan to melt onto the sidewalk following the show's cancellation. Michaels, who has garnered some publicity lately for taking on the real-life role of Melissa Etheridge's girlfriend, will appear in a feature film being directed this fall by openly gay "Popular" creator Ryan Murphy. Michaels will also co-star in several TV-movie installments of "Popular" that Murphy is writing for the WB. These made-for-TV projects have been inspired in part by a massive letter-writing campaign initiated by the cult series' fans, who were angered by the show's hasty demise. Many of "Popular's" storylines will be resolved in these stand-alone segments, including the season-ending cliffhanger, where Nicole mowed down one of the show's heroines with her car. The plotline of Michaels and Etheridge's nascent relationship, however, is still anybody's guess.

5.21.01 - If you want to join the movement to try to get UPN to pick up Popular mid-season, check out Popular is Sweet.

5.18.01 - TV Guide Online: Second Chance for Popular Pair? - Although the WB is expelling Popular after tonight's broadcast (at 9 pm/ET), two of the high school dramedy's classmates deserve to graduate with honors to a spinoff - and we aren't talking about teacher's pets Leslie Bibb and Carly Pope, either...

5.14.01 - According to the WB's Fall Schedule advance copy, Popular has been cancelled and will not be returning next season. The official announcement will be made sometime tomorrow.

5.7.01 - Delta Burke (Cherry Cherry) will guest star in the May 13th episode of Touched by an Angel on CBS.

5.4.01 - Summer plans for the WB include two Sabrinas and two Popstars on Friday nights, leaving no room for rerun episodes of Popular.

4.27.01 - TV Guide Online: Popular Finale Packs a Punch

4.20.01 - TV Guide Online: Will mr. Popular Finally Score? - Harrison John has come closer to the grave than the boudoir, but his luck may be about to change...

4.9.01 - Popular has received a Prism Commendation for the storyline "There's No Place Like Homecoming" which ran through the episodes "Ur-Ine Trouble" and "Style and Substance Abuse." Prism recognizes work in which members of the entertainment community take an active role in addressing drug abuse in America. The 5th annual Prism awards, hosted by Jamie Lee Curtis and Richard Lewis, were taped April 4th. No word yet when or where they will air.

4.5.01 - The cast of Popular is appearing in a lot of upcoming movies. Look for Carly Pope in "The Glass House" and "Through the Skin." Tamara Mello will be in "Tortilla Soup." Christopher Gorham will star in "The Other Side of Heaven." Sara Rue will star in "Gypsy 83" and co-star in "Pearl Harbor." Ron Lester can be seen in "Unleashed" and "Teen Movie."

4.5.01 - Bryce Johnson is representing Popular on MTV's Rock N' Jock Basebrawl, this Saturday, April 7th at 12pm ET.

3.9.01 - The episode "Joe Loves Mary Cherry" received a Genesis Award for spotlighting animal issues with courage, creativity and integrity. This episode questioned wearing leather and eating red meat.

3.6.01 - TV Guide Online: Leslie Bibb Hits the Mother Lode - Leslie Bibb says she relished the opportunity to get down and dirty for her role as David Arquette's unglam love interest....

3.2.01 - Don't miss Leslie Bibb in the new movie, "See Spot Run."

1.29.01 - The Gay & Lesbian Alliance Against Defamation (GLAAD) today announced the nominees for its 12th Annual GLAAD Media Awards presented by ABSOLUT VODKA. The awards will take place in four ceremonies to be held in New York City on April 16, in Los Angeles on April 28, in Washington, D.C., on May 12, and in San Francisco on June 9. "Popular" was nominated as Outstanding Comedy Series.

10.26.00 - "Popular" won a SHINE Award (tying with "Moesha" in the comedy category). The SHINE Awards honor TV programs that deal with issues of family planning and sexuality.

10.17.00 - Wanda at E!Online reports that Sarah Rue is dating one of her blonde co-stars.

10.9.00 - Peggy Lipton (Brooke's mom Kelly Foster) is one of Aaron Spelling's babes in a feature on E!Online

9.26.00 - TV Guide Online: Popular Star Feels Un-Pretty - Leslie Bibb might seem to have curves in all the right places but the WB cutie confesses she doesn't always like what she sees in the mirror.

9.8.00 - Bryce Johnson is up for TV's Sexiest Guy on CosmoGIRL! Vote now.

9.7.00 - CosmoGIRL!: Behind the scenes with Leslie Bibb - see her jump out of a plane and go behind the scenes of the cover shoot.

8.8.00 - "Popular" won a Teen Choice Award for Choice Breakout Show.

8.2.00 - TV Guide Online: Delta's Back in DC - Why did Delta Burke stay away from series television for nearly five years?

8.1.00 - "Popular" has been nominated for a Teen Choice Award as Choice Comedy. "Popular" has been nominated for a Teen Choice Award as Choice Breakout Show. The awards ceremony will air on Fox on Tuesday, August 22nd.

7.18.00 - Check out the interview of Bryce Johnson in the current issue of Twist magazine.

6.29.00 - The June 30th issue of Entertainment Weekly reports that "Popular" asked Britney Spears to do a guest appearance, but her "focus is now on movies."

6.29.00 - The girls of "Popular" have been named the "It Student Bodies" by the June 30th issue of Entertainment Weekly.

5.10.00 - ULTIMATE TV says Leslie Bibb is Who's Hot!!

4.18.00 - Carly and Leslie set aside their on-screen rivalry for a hug at the Kids' Choice Awards presented by Nickelodeon in Los Angeles.

4.18.00 - Carly does great in her movie, but the movie itself didn't do so go. Read about it here.

3.22.00 - Ultimate TV reports on the online effort to save "Popular."

3.19.00 - Carly Pope's new movie, "Trapped in a Purple Haze," is said by ABC to be a great source for teaching kids about drug abuse. Read the movie's plot here.

3.17.00 - Leslie Bibb chatting live with Paul Walker and Joshua Jackson about her upcoming movie, "The Skulls." Click HERE for the transcript!

3.17.00 - Leslie Bibb with Kendall Payne (does the show's theme song) at a recent event at NikeTown! Get the info HERE!

3.5.00 - Read Tamara Mello's interview in the February issue of J-14.

3.5.00 - Christopher Gorham will have a really small part as a "Really Happy Fella" in "Dean Quixote," scheduled from release sometime this year.

3.5.00 - Christopher Gorham guest-starred in an episode of "Buffy the Vampire Slayer" called "I Only Have Eyes For You" which was recently released on VHS. Pick up a copy or check out amazon.com!